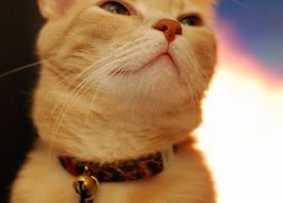 There are a number of methods that cat owners can use to identify their beloved pets, from collars and harnesses with engraved tags to more permanent solutions such as tattoos. There are pros and cons to each so we'll take a look!
Collars and Tags
Collars come in a wide variety of colors, materials, and styles as do the identification tags they hold. In towns requiring registration, collars and tags are sometimes mandatory just like some places that require rabies vaccinations for cats. ID tags should contain the owner's name, phone number, and the veterinarian's phone number. 
Pros and Cons:
Inexpensive, easily available, and do not have to be installed by a professional.
The information you can put on an ID tag is limited because of the small size.
Can easily be removed by someone who wants to steal your cat.
Must be replaced as the collar wears out.
Some cats just don't like collars.
Collars can cause issues in the fur of long-haired cats. 
Tattooing
Tattoos can be placed either on the inner leg of the cat or inside of the outer portion of the ear. Both methods will require shaving. Tattooing is usually associated with a registry which assigns a number and keeps the information on file for the cat associated with the number. There are several registries so the finder of a lost cat may be confused as to which registry to call. Tattoos should be administered by a trained specialist. 
Pros and Cons:
Permanent but may fade over time and become illegible.
Doesn't take a long time to administer to the cat.
The tattoo registries themselves don't move but there are multiple registries which make locating an owner more difficult.
May lessen the possibility of theft
Can be altered by someone that really intends to steal the cat.
A tattooed kitten will grow and so will the tattoo so it might become disfigured over time
Many people don't even think to look for a tattoo on a lost cat.
Anesthesia is required to administer a tattoo – this could be dangerous to an older or sick cat. 
Whatever you choose, it's important to choose something. All pets need an identity. It does no good for a stranger to find your cat only to be unable to locate you. Proper identification of cats can greatly increase their odds of going home.