Here at Help Find Lost Pets, our specialty is in finding animals and NOT writing sales-pages and fancy internet marketing.  If "slick" sounding sales copy is what you're after, you probably are in the wrong place.  If you're looking for help finding your lost dog, then this is the place to be.
The Lost Dog Recovery Guide is currently the top manual for recovering a lost dog.  Written by Pet Detective AnnaLisa Berns, this is actually a 2-book set designed to get you started taking immediate action.  When you find your dog using the material described in this manual, let us know so we can read about another happy ending.
We guarantee there are techniques and ideas contained in this manual that you've never considered.   If you're not happy with what you read, just send us an email and we'll give your money back.  As for what's inside the book, here's a copy of the Table of Contents…
Checklist of Techniques
A quick reference checklist to use in your search.
Chapter 1 – Common Myths
Some people don't find their pet because they believe these myths!
Chapter 2 – FAST Search
If your dog just went missing.
Checklist of places to search for your dog and how to conduct a FAST search for your dog.
Chapter 3 – Supplies & Regroup
If you don't have your dog back yet – preparation for search tasks including shopping lists.
Checking at the shelter – issues and information.
Chapter 4 – Witness Development
Critical tasks for witness development.
Chapter 5 – Trapping & Lure Techniques
Detailed directions on different types of trapping and lure techniques.
Chapter 6 – No luck? Move On!
Keep up your search momentum –  over 30 lower probability tasks, but important too!
Chapter 7 – Hiring a Pet Detective & Search Dogs
Information about using Search Dogs and Pet Detectives in your search for your dog.
Information about the authors of this guide and their references. Definitions of common terms.
Chapter 8 – Dealing with Sightings & Calls
Dealing with sightings can make or break your search!
Chapter 9 – Confirmed Sighting! Now What?
What to do to find your pet from a sighting.
Chapter 10 – Coyotes and Other Predators
Detailed information about predators and your missing pet.
How to keep predators out of your area and away from your pet.
Chapter 11 – Studies of Lost Pet Behavior & Missing Pet Recovery
Information and studies on lost dog behavior and how missing pets are recovered.
Chapter 12 – Breed Specific Tips
Resources and specific tips on some popular breeds.
Chapter 13 – I Think Someone Took My Dog!
Information about pet theft.
Chapter 14 – Dealing with Grief
What to do if the emotional pain of searching for your beloved pet is too much.
How to cope with the pain if you found your pet deceased.
Chapter 15 – Facts & Frequently Asked Questions
Common questions about finding lost pets and scent.
Chapter 16 – Your Dog is Home!
You found your dog safe – what to do next.
What to do to keep your dog safe.
Chapter 17 – References, Resources & Suggested Reading
Books, magazines, websites and newspaper articles referenced for this guide.
Where to go next if you want to know more.
Chapter 18 – Forms
Forms for services like Search Strategy Consultations with Pet Detectives and Forensic Testing.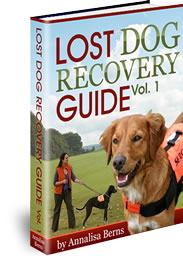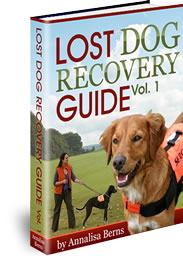 *This eBook is an INSTANT Download!
We're also including 2 free bonuses.  Even though our eBooks are written for anyone wanting to find a lost pet, we understand that sometimes it's simply nice to have a pro on your side working with you. How To Hire A Pet Detective will walk you through the process of finding and hiring a top-notch animal recovery expert.
Finding Home is a collection of true stories detailing amazing stories of animals who have beaten tremendous odds so that they could be reunited with their owners.  We want this book to be a source of hope and inspiration and we'd like to include YOUR story in the next version!  After reading these stories, you truly will believe that anything is possible!