When we have an interesting update or the occasional newsletter, we want to be able to keep you in the loop!
"Get Your FREE Lost Pet Cheat Sheet"
Dear Pet Owner (or LOST Pet Owner),
We've created a brand new Cheat Sheet crammed with amazing methods that you can apply NOW to help you find your lost pet…and it's completely FREE!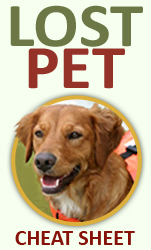 To receive the free Cheat Sheet, enter your name and email address — and we'll send you the download instructions!